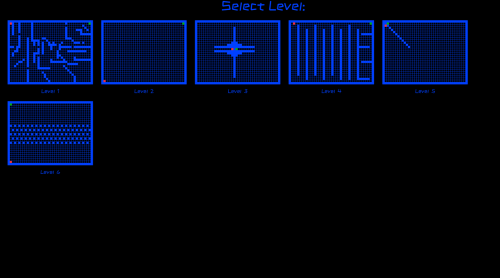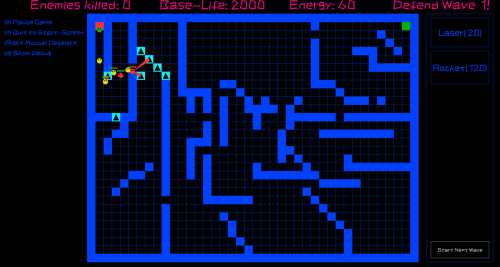 Klassisches Tower-Defense, als kleiner Test des Konzepts und vor allem als eine Herausforderung an mich selbst.
Im Besonderen interessierte mich die Frage, wie die Pfad-Findung der Feinde (Creeps) realisieren werden kann.
Ich bin kein Designer und bin mir recht sicher, dass keine Spur eines künstlerischen Talents habe...dementsprechend gibt es hier nur minimale Grafiken und minimalen Sound - mich reizt eben primär die technische Herausforderung.
Fun Fact: Die gesamte Grafik ist mit den in AOZ integrierten Zeichen-Funktionen realisiert, es gibt also keine vorgefertigten Grafiken.
Das Ziel des Spiels:
Verhindere, dass die Feinde von ihrer Basis (rotes Quadrat) zu deiner Basis (grünes Quadrat) kommen!
Dazu können über das Menü auf der rechten Seite Türme gebaut werden. Diese nehmen selbsttätig die Feinde ins Visier und bekämpfen diese.
Der Bau eines Turms kostet Energie - bekämpfte Feinde geben neue Energie.
Unten rechts kannst du eine neue Angriffswelle der Feinde starten, mit jeder Welle wird der Feind stärker.
Aber keine Sorge, du kannst deine Türme aufrüsten!
Kleiner Tipp: Die Feinde können sich nicht durch die Türme bewegen - dieses kann und sollte man zu seinem Vorteil ausnutzen!
Das Ganze ist noch lange nicht fertig und fehlerfrei - nimm es als einen ersten Geh-Versuch in AOZ Studio!




Classic tower defense, as a small test of the concept and especially as a challenge to myself.
In particular, I was interested in the question of how to realize the path-finding of the enemies (creeps).
I'm not a designer and I'm quite sure that I don't have a trace of artistic talent...accordingly there are only minimal graphics and minimal sound - I'm primarily interested in the technical challenge.
Fun Fact: All graphics are realized with the drawing functions integrated in AOZ, so there are no prefabricated graphics.
The goal of the game:
Prevent the enemies from coming from their base (red square) to your base (green square)!
To do this, towers can be built via the menu on the right side. These will automatically target the enemies and fight them.
Building a tower costs energy - fought enemies give new energy.
At the bottom right you can start a new wave of enemy attacks, with each wave the enemy gets stronger.
But don't worry, you can upgrade your towers!
Small tip: The enemies can't move through the towers - you can and should use this to your advantage!
The whole thing is far from being finished and bug-free - take it as a first go attempt in AOZ Studio!